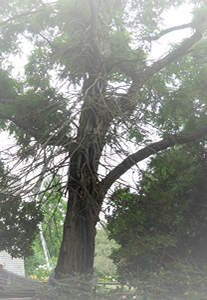 tree of seasons


A slender sapling
Rustles in the gentle spring breeze
Reaching down into the earth
With its roots
And stretching skywards
With its young, strong limbs
Growing
Vibrant
Alive

A mature tree
Stands in the summer warmth
Sturdy and proud in the fullness
Of mature strength
And at the crest of
Its power and grace
Beautiful
Mature
Strong

A tall tree
Sways in the fall gusts
Celebrating with leaves of multi-colors
Dropping fruits and seeds
Spreading, arching outward
Seeding and protecting the land
Fertilizing
Aware
Stalwart

An ancient tree
Shivers, denuded, in winter's chill storm
Holding tightly to the ground
With gnarled roots
Its branches twisted with age
Drawn in upon itself
Resting
Ancient
Wise
the unicorn

It gathers pearly mist to itself
Taking shape
From formlessness
Glistening, shimmering,
More than fog
And less than substance
It raises its head
Golden light glints off a spiral horn
In form a horse
But nobler
Without a steed's sturdy pride
Or his aristocratic arrogance
Beautiful, mysterious, pure.
It moves
With the delicate gliding flow
Of the sun on dappled leaves
As it wheels through the heavens
Its gait is graceful,
Its hide silky and soft.
Fleet of stride and wind,
It passes as the spring breeze
Gently kissing the flowers awake
In the early morning sunshine
It is a creature of mist
Of myth,
Of legend,
Of dream
Of magic
Yet it is more real
In belief
Than the truest
Reality.